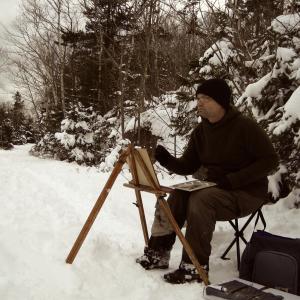 Geoffrey Grantham
Geoffrey Grantham began painting en plein air early in his
career, in 1995. He paints throughout his native Nova Scotia,
but has repeatedly returned to certain inspiring locations,
such as the globally rare barrens found in the Purcell's Cove
Backlands. Located just outside the city of Halifax, this unique
landscape is characterized by jack pines growing among
spectacular whaleback rock formations. He also returns to
the stark, majestic Cape Breton Highlands as well as the
expansive Annapolis Valley.
Grantham's multi-layered, powerful and complex paintings
capture the uniqueness of Nova Scotia's landscapes in their
infinitely changing moods.
Grantham's work can be found in private collections across North America and Europe.