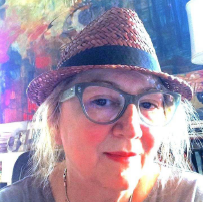 Nada Sesar Raffay
These painting are about the infinite beauty of colours
on a hot summer's afternoon, before the night's sky.
They are of salty sea water, gentle breezes and a house without walls.
They are about confusion, broken pictures, broken dreams
and lost people in a sea of memories.
My paintings are about love and life, freedom and creativity
My paintings are me.